INSIDE THIS
ISSUE
Notes from Logan
Infocomm09
LA Tech Showcase
Infocomm09
Events
Welcome to the June edition of Scanlines,
the newsletter of The Enright Company, Professional Video/Multimedia Representatives, 1801-I Parkcourt Place Suite 100, Santa Ana, CA 92701 (888) 334-7773.
Notes From Logan
by Logan Enright, CTS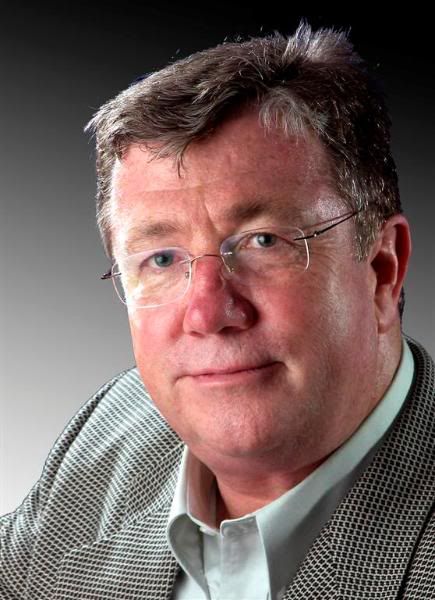 Another InfoComm – my 32nd. Forgive me if you have heard this story, but when I was a 25 year-old working for JVC right out of college, the VHS video cassette format had just been introduced by that company. A group of us at JVC were responsible for launching this fledgling tape format to the pro video dealers of the western region.
The first public commercial viewing of VHS was at the show that is now InfoComm – at that time called NAVA (National Audio Visual Association) It was Anaheim in 1977. The rest is history – for many VHS defined video as we know it today. Prior to VHS, most people did not know the meaning of the word video. This story is nothing more than AV trivia– this story and $1.70 gets you a small coffee at any Starbucks.
The story has some real relevance in that it it defines the business model in high tech of cross-licensing vs "going-it-alone". In those days Sony Betamax was marketed almost singularly by Sony (Sanyo and a couple others had Beta too), while Victor Company of Japan (parent of JVC) licensed VHS to virtually the entire electronics world. This business model is akin to the PC vs Apple Mac story, and in our AV world the manner in which Texas Instruments has marketed DLP – NOW the rest is history.
---
New At Infocomm 09 From Enright Company Manufacturers
Vaddio ClearView HD-18 camera
Vaddio – Booth 3533
Vaddio,
www.vaddio.com
, has introduced the first American made video camera since the 1970s. The ClearView HD-18 was introduced at NAB and features a 1/3" single chip HD CCD yielding resolution up to 1080p. With an 18x lens, this pan/tilt/zoom (PTZ) camera sports full a DC servo motor with high-torque and micro-stepper precision robotics which enhance performance with smooth pan/tilt operation for accurate camera movement. The HD-18 carries a list price of under $4300.and has Cat X control interface built in to the unit.
Also from Vaddio - Due to the increased demand of Serial Digital Interface (SDI) in live broadcast, Vaddio created the ProductionVIEW HD-SDI multi-camera control system with an integrated 6 x 2 HD/SD-SDI seamless video switcher. Because the majority of robotic PTZ cameras currently available on the market offer HD-SDI or SD-SDI cards, the ProductionVIEW HD-SDI is designed to connect easily via a single coax cable for video. ProductionVIEW HD-SDI includes the 3 Gigahertz HD-SDI standard (SMPTE 424M) for 1080p video, as well as SMPTE 292M (HD-SDI at 720p or 1080i) and SMPTE 259M (SD-SDI).
RGB Spectrum - Booth 3732
RGB Spectrum,
www.rgb.com
, the industry-leader in video processors, streaming and recording technology, has introduced the MediaWall® 4500. This all-new series of video wall processors is a fully real time video/data wall system for arrays of projectors, cubes or flat panel displays. Unique among display wall processors, the MediaWall 4500 is based on custom, high performance architecture rather than a PC, with faster updates, more display flexibility, robustness and security. Real time display of inputs is guaranteed under all conditions, without any dropped frames.
The MediaWall 4500 processor can display up to thirty graphics and video signals on up to twelve screens in a 3 x 4 array. Images can be displayed anywhere, any size, within or across screens, in correct aspect ratio or stretched to fit, in whole or zoomed to emphasize details. Unlike other video/data walls, the MediaWall processor has essentially no limits on display alternatives; the multi-screen array forms a truly virtual screen in which any display of windows is possible.
In other RGB Spectrum news, they have expanded their codec line with the new DSx™ H.264 video over IP solution. The DSx SD/HD codec provides an unmatched combination of outstanding image quality, performance and feature-rich capability.
The DSx SD/HD codec is capable of encoding and streaming either a single channel of high definition HD 1080p video or four NTSC/PAL video channels simultaneously at up to 30 frames per second each. The codec uses H.264 high profile compression technology to optimize image quality with maximum bandwidth efficiency.
Liberty Wire and Cable – Booth 5641
Liberty Wire and Cable,
www.libertycable.com
, has rolled out (no play on words intended) their EDULinx Series products. These active wall plates feature quick-connect interfaces which allow for easy installation of projectors and flat panels. Liberty's one piece connector system eliminates the opportunity for mistakes. Fiber Optic interconnects are also a big push for Liberty this year. More and more integrators are signing up for LIS, Liberty Inventory Systems, which allows for local inventory by our larger integrators. Flat wire is another push for Liberty in 09 – easy to install under carpet and can be mudded and painted over.
APC G5 Power filter
APC – Booth 3079
APC,
www.apcc.com
, the leading provider of power protection solutions, offers the industry's most comprehensive product range, including those for A/V enterprise, and commercial/professional environments.
The more cynical among us might view the selling of power protection and conditioning gear as simply a way to get more money from customers. Purveyors of those power conditioners that claim to magically and dramatically improve sound and video quality might actually be justified in such a negative and short sighted view. But good power protection can not only increase revenues, it can also help cut costs and increase customer satisfaction. All of this, of course, can lead to even greater revenue generation via repeat buying, system upgrades and referrals.
No matter where customers work, what the condition of their wiring, or how good their utility company might seem to be, commercial AV systems are all at risk of being damaged by bad power. Yes, the risk changes depending on many variables, but in the end, it only takes a single bolt of lightning, one curious rodent in a transformer or any one of a multitude of dangerous power anomaly sources for equipment to become damaged or go offline. Ask customers if it is worth risking thousands of dollars, hours of paid work time and entertainment to save a few hundred dollars on power protection equipment. Power protection equates to inexpensive, hassle-free insurance.
New products from APC at InfoComm include: The G5BLK provides guaranteed surge protection and isolated noise filtering in a compact 1U high, rack-mountable chassis. Dimmable LED status indicators and an LCD display communicate a variety of information including current draw, input/output voltage levels, high/low voltage cut-off points, outlet power status, outlet turn on/off delays and more.
The APC AV In-Wall Power Filter and Connection Kit works in conjunction with APC AV power protection solutions to protect remote wall-mounted televisions and ceiling-mounted projector. The In-Wall Power Filter and Connection Kit ships with input and output receptacle boxes, an 8' output power cord, and a 2' input power cord for TV/projector. The In-Wall Power Filter and Connection Kit is installed by a licensed electrician who runs ROMEX® between the inlet box, located near the head-end where the power conditioning equipment is located, and the outlet box, located directly behind the display. Additionally, component-specific noise filtering circuit ensures audio and video signals are free of interference.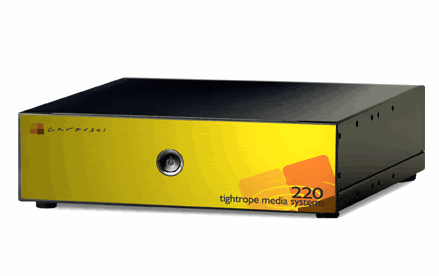 Tightrope Media Carousel digital signage engine
Tightrope Media Systems – Booth 2667
The folks over at Tightrope,
www.trms.com
, have had a pretty busy year. At NAB this year they announced 'Zeplay' a 4x4 SD/HD Instant replay server which strives itself on being super fast and intuitive. Carousel, the Tightrope digital signage engine, has gone through a few changes recently which will now include more free stuff! The interactive plug-in and monitor control are now included with every new system. This adds to their ever growing list of freebies including (but by no means limited to): weather, RSS, iCal, multi-users, remote data adapter, streaming video, web page snapshots, impression tracking, status monitoring, PowerPoint support, and screen saver. Finally, the Tightrope Creative department (store.trms.com) is dropping their prices and has made it easier than ever to install a preconfigured design. Check 'em out.
Tightrope continues to undergo tremendous growth. (Thanks!) With this growth come a few growing pains. They've expanded the support department by adding Sarah Parker to the gang in hopes of cutting back on any waiting time and are narrowing our search for one more person to join the team. Feel free to stop by their new booth at InfoComm to say "hi".
Hall Research Technology (HRT) Genesis™ series routing switcher
Hall Research Technologies (HRT) - Booth 4178
New this year from HRT,
www.hallresearch.com
: Genesis AV Matrix Series with 16x16 and 8x8 VGA/HDTV and Audio is now available with RJ45 inputs and outputs and remote graphical interface software. Hall Research has been a leader in video, audio, power and RS232 extension over UTP for 9 years.
The latest in Cat5 products from HRT includes an HDMI extender (over a single Cat5 cable), Video and RS232 Bi-directional, DVI with EDID management, and our 3-input A/V Switcher and Transmitter with remote receiver for Classroom AV Control. EDID management is built into many of our products to deal with the absence of the DDC channel. HRT features an EDID emulator device to emulate a high resolution LCD when plugged into the PC. Display port is the latest video connector and Hall Research carries extension cables and adapters. Also new this year is our Multi-format PC/HD Video Scaler.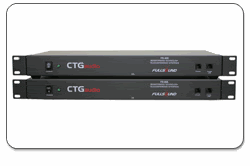 CTG Audio control consoles with Beamforming Technology
CTG Audio – Booth 6630
"Ceiling microphone systems don't work" This mantra is frequently heard when scoping out an AV project. Often this is accepted as a proclaimed rule giving the end user a short-changed solution. "Not so" says Dave Newman, president of CTG Audio,
www.ctgaudio.com
, a brand new line for us at Enright Company.
The compelling benefits of ceiling based systems make them an appealing alternative to table top or lapel equipment. CTG's goal is to provide the participants with an experience that provides them with the freedoms: to move anywhere in the room (even face a wall), to rearrange furniture, to not trip over wires & cables, all while having crisp, clear, comfortable audio.
The key component of the ceiling based system is the high performance CM-01 flush mount ceiling microphone. The visible portion of this microphone is smaller that a dime.
At InfoComm, CTG will be introducing two new "Beamforming" mixers which, in addition to other features, have noise cancellation and de-reverb algorithms. Also, a newly offered flush mount ceiling speaker, selected due to its' voice accuracy, will be presented. Both of these offerings will further enhance the ceiling based experience.
Forbes AV – Booth 2561
Forbes AV,
www.forbes-av.com
, one of the leading manufacturers of custom and standard AV furniture, has introduced a podium which combines the technology of a flat screen monitor with content players into an elegant speakers podium. Whether the need calls for a larger portrait monitor or a smaller landscape orientation the podium allows the user to enforce brand recognition with company or location logos. Presenter names or topics can also be displayed. Whatever the content the digital lectern can be designed to fit the look and feel of a specific location and customized to accept most smaller and mid-sized flat screens. This design also includes ample airflow for the monitor as well as specific cable management areas for easy installation. All of this is combined with Forbes-AV's attention to durability and quality for a well-finished product.
Forbes is located in Ontario, CA (inland from LA) and offers very informative and interesting tours of their manufacturing facility.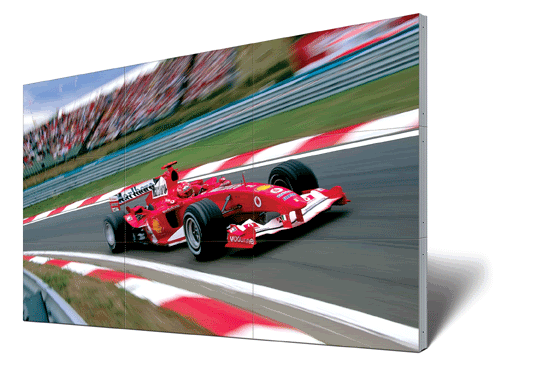 Orion from Salitek - seamless plasma
Salitek/Orion – Booth 5021
Salitek,
www.salitek.net
, exclusive U.S. Importer of the Orion M-PDP unique video wall solutions, has hired Mark Phillips, CTS as Director of Sales in the Western Region effective June 1 - just in time for InfoComm 2009. You know Mark from his NEC days and before – welcome a stalwart player in our field.
Salitek will be exhibiting demonstrating new innovative Orion Infinite M-PDP's featuring high resolution and clarity, an anti-glare surface, and a mullion of less than 3mm (pixel to pixel with no bezel). The new Orion OPM4240 increases brightness by 50% to 1,500 cd/m2 and contrast ratio of 15,000:1. The new OPM4250 increases brightness by 50% to 1,500 cd/m2 and contrast ratio of 30,000:1. The new Infinite line allows for a limitless video wall configuration and ships with Orion Multi Screen Control Software at no additional cost.
Casio – Booth 2949
Casio Super Slim projectors are ultra-bright & ultra-slim delivering up to an impressive 3000 ANSI Lumens and only 1.7" high and 3.96 pounds. Small and bright enough for the road warrior, the built-in 2X short throw power zoom lens and RS-232 control functionality are ideal for system installation. DLP Technology and XGA resolution project images with precise color and detail. Designed and built by CASIO the Super Slim Projector is backed by a full 3 year parts & labor warranty out of the box.
At INFOCOMM Casio will be debuting an expanded Super Slim lineup. Building on the success of Super Slim, the World's Thinnest Projector, Casio will be adding new models with increased brightness and WXGA resolution. All models will incorporate DLP technology and the features Super Slim is know for including 2X power zoo, less than 4 lbs, Video and data inputs and models with USB for Wireless/PC-Less Presentations. Casio Super Slim projectors simply set the standard.

Nexus Digital Signs – Booth 1953 Nexus, www.nexusdigitalsigns.com, is a next-generation digital signage company offering system design and development, integration and network operating services. Nexus networks can function as passive systems or can be touch-enabled. Utilizing the latest in display and computer graphic technologies, our displays showcase high definition video, audio and animated graphics. Nexus is a leading provider of true Software-as-a-Service (Saas) solutions for the digital signage industry.

Nexus offers an on-demand and enterprise technology platform to create, publish and manage applications for passive, interactive and custom solutions. With years of experience across many different market verticals, Nexus has extensive understanding of what components need to be present and how they need to work in order to ensure that businesses have the best opportunity to succeed.

NCast Telepresenter M4 streaming engine
NCast – Booth 4671
NCast's,
www.ncast.com
, Telepresenter™ M4 Multi-media Capture Station, announced in February, is now shipping and delivering high-resolution graphics plus high-definition video streaming in an inexpensive appliance that requires no presenter interaction. Now you can create, stream, and record content like lectures, presentations, speeches,earnings calls, scientific events, and more - simply. Take a look around and see why NCast has been chosen by the most demanding organizations to be their mixed-media production partner. NCast's Telepresenter M4 - Simply Impressive.
---
Enright Company LA Tech Showcase in Pasadena Big Success
by Dave Fahrbach, CTS
Pasadena, CA
– Enright Company's LA Technology Showcase was held June 3rd in Pasadena. Attendance was very good and we wish to thank all our valued integrators and consultants for their attendance. Encouraging news was that our industry seems to be weathering the recession pretty well. This expo was the first local public unveiling of the all-new RGB Spectrum MediaWall 4500, the Vaddio ClearView HD-18 HD camera, and many other important new products. This show is a precursor to our Sojourn Road Shows coming to hotel near you this fall!
---
Attention Consultants Headed to Infocomm
by John Harmyk
The Independent Rep Council (IRC) of InfoComm cordially invites all Independent Consultants in AV Techology (ICAT) members headed to Orlando for InfoComm to the annual IRC/ICAT reception. Wed, June 17th, 5-6PM, convention center room: W101B.
For a printable invite
please click here
.
Independent Reps and consultants only, please. See you there!!!

E V E N T S