INSIDE THIS
ISSUE
Notes from Logan
Vaddio
Liberty
RGB
APC
Hall
PDR
Stantron
Welcome to the September edition of Scanlines,
the newsletter of The Enright Company, Professional Video/Multimedia Representatives, 1801-I Parkcourt Place Suite 100, Santa Ana, CA 92701 (888) 334-7773.
Notes From Logan
by Logan Enright, CTS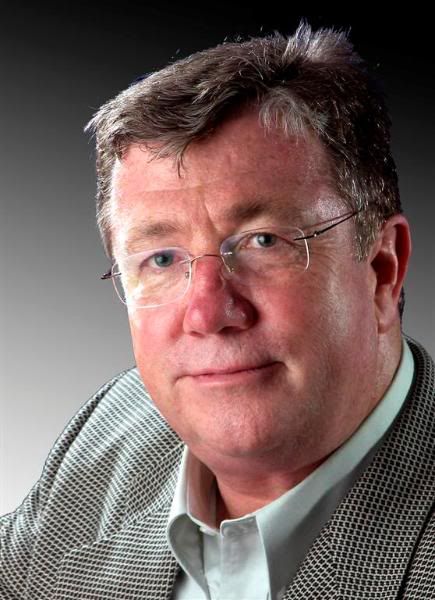 Mark your calendars - The Enright Company Sojourn Road Shows are upon us again. With virtually all of our manufacturers participating, these exhibitions and buffet luncheons will be held in hotels in six cities in our region this fall. Times for each city are 10-3PM. Expect to see an invite on the event closest to you. We hear very positive comments from our integrators and consultants on these shows!
See new products from RGB Spectrum, Vaddio, Liberty Wire, APC, Tightrope Media, Forbes AV, Hall Research, PDR Mounts, Netstreams, NCast, Stantron, Casio, CTG Audio and Nexus Digital Signs. Meet sales and marketing executives from these manufacturers. Open to all Enright Company integrators and their clients, consultants, installers and rental companies, kindly RSVP to
stephen@enrightcompany.com
.
Enright Company
2009 Sojourn Road Show Schedule
| | | |
| --- | --- | --- |
| Location | Date | City |
| Hilton Arden West | Tue, Sept. 22 | Sacramento, CA |
| Doubletree | Thu, Sept. 24 | SFO/Burlingame, CA |
| Sheraton | Tue, Oct. 13th | LA/OC. Cerritos, CA |
| Sheraton | Wed, Oct. 14 | La Jolla, CA |
| Tuscany Hotel & Casino | Tue, Nov. 17 | Las Vegas, NV |
| Fiesta Inn | Thu, Nov. 19 | Tempe, AZ |
---
Vaddio Releases ControlVIEW XHD Switcher
by Dave Fahrbach, CTS
Vaddio,
www.vaddio.com
, the leading manufacturer of specialty PTZ cameras and camera control systems, introduces the new ControlVIEW XHD.
"ControlVIEW XHD, used in conjunction with StepVIEW Mats, AutoVIEW IR sensors or other triggers devices, allows the instructor to focus on teaching, not the technology," explained President and CEO of Vaddio, Rob Sheeley. "Seventy-two preset camera positions can be set up to control six PTZ cameras with seamless switching between inputs –– including transition options such as a fade or variety of wipes –– for higher production value."

New automated camera controller with HD, RGBHV and SD video switching
Besides classroom automation, ControlVIEW XHD can be used in a variety of applications such as live event production, videoconferencing, as well as many others. The 6 x 1 switcher accepts analog SD, HD and RGBHV on all inputs and up/downscales these signals to dual program outputs at either an SD, HD or RGBHV resolution.
ControlVIEW XHD works with a variety of robotic PTZ cameras in the Vaddio line including Vaddio, Panasonic, Sony and Canon. Input trigger accessories that work with ControlVIEW XHD include Vaddio TouchVIEW RF buttons, StepVIEW Mats, AutoVIEW IR sensors and MicVIEW, as well as other third-party contact closure devices. Simply program a trigger device, such as a StepVIEW Mat, to a preset camera pan/tilt/zoom position. When an instructor walks onto the StepVIEW Mat or a student presses a push-to-talk microphone, ControlVIEW XHD moves the camera to the programmed camera position, and then switches to that camera.
Through the link ports found on both products, ControlVIEW XHD can also be connected to the Precision Camera Controller for a low-cost HD switcher/camera controller package.
About Vaddio:
Vaddio is the leading manufacturer and OEM distributor of specialty PTZ cameras and professional camera control systems used in the broadcasting, audio/visual and videoconferencing industry. Headquartered in Minneapolis, MN, Vaddio also has operations throughout the Americas, as well as sales and support partners throughout the world. More information can be found on the Vaddio website,
www.vaddio.com
or at (800) 572.2011. R
---
Liberty DL-HDCX
by John Harmyk
Liberty Wire and Cable,
www.libertycable.com
, has introduced DL-HDCX, It is the ideal way to transmit DVI and HDMI signals. It utilizes 4 or 5 conductor RGBHV cables to digitally transmit 1080p /60 8 bit signals over 300' (using our 23 AWG coax cable terminated with easy to use ConnecTec BNC connectors*).
The DL-HDCX is well suited to retro-fit applications. Just use your existing cables to transmit the digital signals to a display with a digital input. New installations will also benefit from the DL-HDCX since it uses cables and connectors you already have in your toolbox. Note that the coax cables should not be switched, as the signals on these cables are bi-directional.
Compared to lesser quality category cable extenders, the DL-HDCX is extremely resistance to RF interference, can be powered at either end (or both ends for use with 4 cables) and is small enough to fit behind most flat panel displays. Accessory mounts and power supplies are available. This product is in inventory and currently shipping. MSRP is $900.
---
RGB Cross-Format Router Introduced
by Stephen McNeil
Incorporating RGB Spectrum's,
www.rgb.com
, breakthrough CrossXFormat architecture, the Linx 1700 supports DVI and RGB signals on every input. Unlike other companies' solutions that offer two separate switchers housed in a single enclosure, the Linx 1700 is a truly integrated system. Analog RGB inputs are internally converted, processed through the switcher and output as DVI signals.
Configurations include 8 or 16 inputs and 8 or 16 outputs. Custom configurations are available and units smaller than 16x16 are field upgradeable.
Signals with pixel clock rates from 25Mhz to 165MHz are supported, including 1920x1200 and 2048 x 1152.
The LinxT™ 1700 16x16 CrossXFormat switcher is the optimal solution for environments with both DVI and analog RGB sources.
Built-in HDCP support allows the Linx 1700 to accommodate content-protected DVI signals. An HDCP encoded signal can be routed to all 16 outputs simultaneously.
EDID management and control are simplified with RGB Spectrum's Total EDID Manager™, which provides the user with the most complete set of EDID management tools available, including fixed, emulated and real-time pass through of EDID. Along with on-board storage, EDID and configuration files may be exchanged between the switcher and a PC.
All Linx family switchers are designed with simplified system integration in mind: Functions are easily set up and controlled using a command line interface or graphically via a standard web browser. Front panel controls provide quick access to call up presets or create a routing assignment. Built-in cable equalization extends input cable lengths without the need for external signal extenders. Output connectors can supply up to 8 amps of total power for pin-powered devices such as cables or extenders, obviating the need for external power supplies. The Linx 1700's modular architecture simplifies I/O card replacement should it ever be needed and the units feature a user-swappable power supply.
A Linx 1600 16x16 DVI model is also available for pure DVI switching.
Built on RGB Spectrum's long tradition of quality and reliability, the Linx 1600 and 1700 are designed for 24/7 operation. They provide an unmatched combination of performance, features, robust construction and ease of use ideally suited for mission critical applications.
---
APC AV Channel Partner Program
by Todd McGuire, APC
The APC (
www.apc.com
) Partner Program offers a clear and differentiated path for APC partners to leverage pricing and benefits. The program gives full access to the APC network of qualified and dedicated solution sales and engineering personnel. It also offers ongoing support and access to market direction.
It is simple to become a member of the APC Channel Partner Program and start down the path to greater market opportunities and long term business growth. Whether you are a new or an existing AV Partner, there is no better time to get started. The APC program will align to your core competencies and expertise while driving profit opportunities for your organization.
Sign up Now! (Please make sure to check off AV Channel and who told you about the program.)
APC Channel Partner Program Sign-Up
In Other APC News
See the new APC G5BLK power filter featuring eight NEMA 5-15P back panel outlets and one on the front. This 15Amp rack-mountable unit has LCD readout of power statistics and carries a list price of just $200. See this and all the new in-wall APC power products at the Enright Company Sojourn Road Shows – see above article, Notes from Logan.
---
Hall Research Adds IP Control to its All-in-One A/V System
by Logan Enright, CTS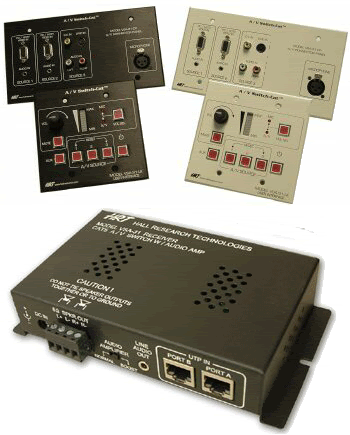 Hall Research releases the VSA–31–IP, a device that allows monitoring and control via Internet Protocol for their VSA-31/31SP Switch-Cat A/V systems
Hall Research,
www.hallresearch.com
, announces today the release of the model VSA–31–IP, a module to the Switch-Cat A/V System (Hall Research Model VSA-31 and VSA-31-SP) that allows the monitoring and controlling of multiple Switch-Cat installations via Internet Protocol. The Switch–Cat is the all–in–one A/V system that is currently installed in courtrooms, schools, and conference rooms worldwide.
The VSA–31–IP contains two elements: The IP Module and the GUI Software. The IP Module connects to the receiver for the VSA-31 via RS-232. The IP Module connects to the local network through a standard network cable. The GUI Software is a standalone software program that can be installed onto any computer on the local network. A user who accesses the software while on the network can view and control various settings on all installed devices such as:
Device Properties – the software stores descriptive fields about each device such as its make and model and serial number.
Device Location – can organize devices into location hierarchy, such as "Building" and "Room Number."
Device Status – polls devices for the current power state and projector lamp hours.
Alarm – sends notification e-mail to the administrator for events such as a device disconnecting, or when a pre-set number of projector hours has reached its threshold.
Broadcast events – sends out events to multiple devices at one time such as "Turn all on," or "Turn all off."
Scheduling – has the ability to schedule events to turn all devices on or off, or to send out a specific pre-set command.
"The VSA-31-IP is a great option for adding functionality to the Switch-Cat system. It eases the burden of system management by allowing remote administration from anywhere on the network. Features like remote management, e-mail alarms and distributed device control would be virtually impossible to implement without network connectivity," said Justin Ireland, Product Manager for Hall Research. "Useful applications for the VSA-31-IP are facilities where multiple units of the VSA-31 are presently in place, and installations that require remote device administration capabilities.
The VSA-31-IP has a retail price of $395.00 and will be featured at the upcoming Enright Company Sojourn Road Shows this fall.
---
Digital Signage Mounts for Professional Integrators from PDR
by Patti Enright
PDR Mounts,
www.pdrmounts.com
, continues to add creative wall and ceiling mount designs for the Digital Signage. Unique among mount providers today, PDR's complete line is designed, tested, fabricated, assembled, and shipped from within its manufacturing facility in Southern California.
Did you know The Enright Company has been in the AV mounting business for 24 years? Our expertise in mounting accessories extends to job–walks and specifying your next AV project. We love that PDR mounts are built and stocked locally.
The ACMF–001 Cover Mount demonstrates the signature versatility PDR products have become known for. Robust anti–theft features combine with wall-or-ceiling mountable platforms, securely fitting a mini-computer and router behind the flat panel display. In its wall-mountable version, the patented fixed–or–5–degree–tilt makes installation and orientation option a breeze. (Universal designs available.)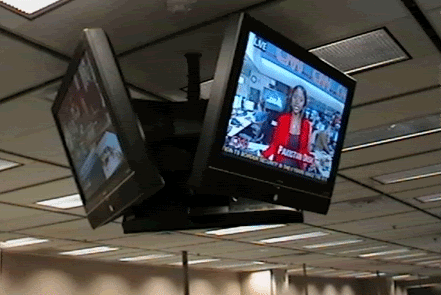 Accent the MESSAGE, not the mount!
Modularity of components and concept creativity offers ultimate flexibility – designed with a VESA100 pattern, this ACMF mount also matches up with PDR's complete line of mount interface adapters for a cost-effective ceiling mounted installation. Low cost, Lifetime Warranty, Made-in-U.S.A. solutions.
Unique to the Digital Signage market – the discreet design PDR Mounts provides in multi-array ceiling mounts. For maximum digital signage impact, PDR multi-array mounts hide behind the flat panel displays, in a variety of Digital Signage array formats: single, dual, tri-mount and quad-mount options.
---
Stantron GHR Rack
by Gary Lenerville, Stantron/Mayville Products
Stantron,
www.mayvilleproducts.com
, introduces their new GHR Rack, a compact, sturdy rack designed to fit into existing infrastructures. The Stantron GHR Rack gives integrators new options when replacing or adding racks in technical facilities where space is at a premium. Similar in design to Stantron's popular E-Rack, the GHR matches up with other manufacturer's racks including GKM and Hopewell and provides a hole pattern that allows direct baying to these manufacturer's racks in existing facilities.
The GHR Rack is a great addition to Stantron's unique range of durable racks and along with their cabling, power and other accessories, provides systems integrators and engineers with complete, customizable solutions for studios and technical operations centers of all sizes. And of course you may see the GHR series at our road shows – coming to a city near you!

E V E N T S
WHAT
WHEN
WHERE
MORE INFO
CEDIA (Custom Electronics Design Industries Association
Sept 9-13
Atlanta
www.cedia.net
AVI-SPL University and Expo (Enright Co booth showing RGB Spectrum and Netstreams)
Sept 16
Long Beach Convention Center
www.avispl.com
Liberty Wire and Cable dealer calls in AZ (John Sperber and Dan Reich
Sept 15-16
Various
John Sperber jsperber@libertycable.com
BICSI (Telecommunications and IT industry show)
Sept 20-24
MGM Grand Las Vegas
www.bicsi.org
ASIS (security show)
Sept 21-24
Anaheim Convention Center
www.asisonline.org
Enright Company Sojourn Road Shows (Northern CA)
Sept 22
10-3pm
Hilton Arden West, Sacramento
www.enrightcompany.com
Enright Company Sojourn Road Shows (Northern CA)
Sept 24
10-3pm
Doubletree Inn SFO (Burlingame)
www.enrightcompany.com