INSIDE THIS
ISSUE
Notes from Logan
Tightrope
Forbes
AKIRA
CTG Audio
Welcome to the December edition of Scanlines,
the newsletter of The Enright Company, Professional Video/Multimedia Representatives, 1801-I Parkcourt Place Suite 100, Santa Ana, CA 92701 (888) 334-7773.
Notes From Logan
by Logan Enright, CTS
Merry belated Christmas, Happy New Year and Happy Holidays! It is hard to believe the first decade of the millennium is behind us.
Speaking of milestones, The Enright Company turns 25 in 2010. Notice our new anniversary logo on our site,
www.enrightcompany.com
. We are grateful to all our loyal partners and supporters who have allowed us keep our nose to the grindstone since 1985. We look forward to serving you with the same degree of professionalism and energy in the upcoming years!
The 2009 Enright Company Sojourn Road Shows are behind us and generated record turnouts this fall. These expos and luncheons held in six cities over three months are a fantastic way for our manufacturers to meet our dealers and consultants. We look forward to these shows and find the opportunities they generate to be so valuable - thanks ever so much for coming out! Any suggestions for ways to improve these would be highly appreciated!
In this edition of Scanlines we spotlight a recent deployment of digital signage by
Tightrope Media Systems
,
www.trms.com
, social networking initiatives from
Forbes AV
,
www.forbes-av.com
, a new line,
Akira
,
www.akiradisplay.com
, with narrow bezel flat panel displays, and
CTG Audio
,
www.ctgaudio.com
, in ceiling mics that sound great.
Thanks for scanning Scanlines! Please look for my CES review in an upcoming edition of Gary Kaaye's RAVE newsletter. As always, please let us hear from you with any comments, questions or suggestions on this newsletter! Cheers!
L-R Matt Kertesz, Dwight Jorgensen and Jeff Emmons of Immedia at the Phoenix leg of the Enright Company Sojourn Road Shows. This one was our single largest of the six-city tour with 85 attendees
---
Tightrope Media Artistic Signage
by Dave Fahrbach, CTS
Modern Digital Signage for the Modern Wing of the Art Institute of Chicago
Is it art, or is it signage?
When a digital signage system is properly implemented, it can be hard to tell the difference. Such is the case at the new Modern Wing of the Art Institute of Chicago, with a digital signage system based on Carousel from Tightrope Media Systems (
www.trms.com
).
Opened in May of 2009 after almost ten years of planning and construction, the new 264,000 square foot Modern Wing was designed by the award-winning Italian architect Renzo Piano. This very impressive addition turns the Chicago landmark into the nation's second largest art museum.
The Modern Wing is composed of two three-story pavilions, one on each side of the two-story Griffin Court which will serve as the building's "main street." As with any main street, effective signage is necessary so that visitors can get directions about where they are and where they want to go. But, unlike the street signs in your home town, the Art Institute needed modern signage to fit with the Twentieth- and Twenty-First Century art housed in the Modern Wing.
Pentegra Systems installed two portrait-mode LCD monitors in the Griffin Court. One of these LCD's is dedicated to rotating the posters that have been designed for each of the current exhibitions. The other is currently formatted with two, three or four zones to display an RSS feed of current exhibitions as well as an iCal feed of the featured events with additional LCD's at the museum's new Millennium Park Entrance to give general information on ticketing, events and membership. A fifth LCD was installed above the audio tour counter.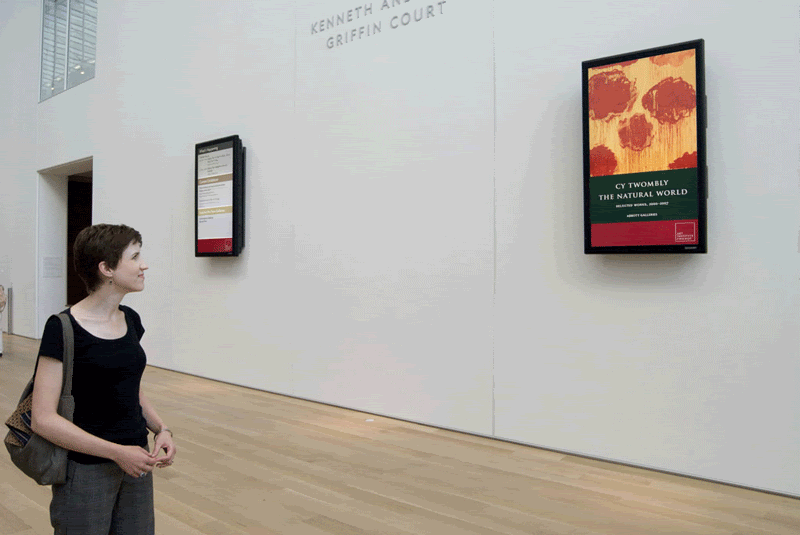 Visitors can't resist stopping to have a look at the artwork
After the opening of the Modern Wing, digital signage was added to the museum's entrance mirroring information from Griffin Court plus a third LCD above the ticket counter to provide general information.
Selecting a Software System
Once Talaske decided on the number and placement of the digital displays, the next crucial decision was selecting the digital signage software that the Institute would use to create content. Elizabeth Neely, Director of Museum Information Systems, said, "We needed a digital signage package that was straightforward and easy to use with out-of-the-box functionality." After viewing several software alternatives, the institution selected Carousel from Tightrope Media Systems.
"After our first demo of the Carousel software, we could visualize how we could set up and accomplish the workflow," Neely explained. "Luckily, the system was as easy to use as we expected and has easily fit within our workflow. Our graphic designer has quickly learned the system and has related how easy it is to work with. We are very happy with the system."
Salvador Cruz, Graphic Designer at the Institute, mentioned that one of the challenges for the digital signage system was the implementation of a customized font that was specifically designed for the Art Institute.
Dieckhaus added that one of the main reasons for choosing Tightrope was that it could run on the existing IP network in the older part of the museum. "The original museum has a lot of Cat-3 cable installed that limits the bandwidth. For digital signage to be installed there, we needed a software package that would not constantly stream video and bog down the network. We also liked that Tightrope offers a wireless option which might be necessary in the 100-year old stone and granite building."
Cruz concluded by saying, "It's nice to walk through the Griffin Court and see the posters that we have designed electronically displayed side-by-side with the other art in the museum.
---
Forbes Social Networking
by Patti Enright
Wikipedia defines a social network service as focusing on building an online community who share interest and/or activities. Forbes-AV,
www.forbes-av.com
, believes this is the perfect way to communicate with industry professionals in a real time atmosphere about the latest and greatest products and services we provide. Through sites such as Facebook, Twitter, YouTube, and Linkedin we can share lead times, events, specials and much more. More importantly it gives the company an opportunity to communicate in a platform that millions of people across the globe utilize daily.
An overview of Forbes' new Social Media
Traditional communication is still an important part of our marketing strategy but in an era of green conscious networking web based communications can make a difference. Offering PDF downloads of our catalogs and flyers through these social networking sites and making announcements via posts and "tweets" allows us to move away from printed materials. Videos of our tradeshows, manufacturing processes, installation instructions, etc. can also be an effective way of showing our dealers and end users the value of using Forbes-AV for their presentation furniture needs.
Forbes-AV will always focus on providing great values, as well as top quality materials and manufacturing techniques in building its product. Attending and exhibiting at industry tradeshows as well as personal visits will remain a priority. Our presence in the social networking world will only enhance our ability to communicate and involve our valued partners through that community.
---
Akira –Narrow Bezel Open Frame LCD Displays
by John Harmyk
AKIRA,
www.akiradisplay.com
, a provider of innovative display products introduces the newest addition to its commercial grade LCD line with the ALM46Z1. With bezel sizes of 2.4mm on the right and bottom and 4.3mm on the left and top ( 7.3mm image to image) , the Ultra Slim Bezel allows a continuous image across up to a 16 x16 matrix of 46" displays.
Featuring the Samsung DiD LCD panels and AKIRA's commercial grade electronic kits, the new Ultra Slim Bezel will assembled at their Livermore warehouse equipped with their patent pending technologies designed to address concerns and shortcomings of other Ultra Slim Bezel product and mounting systems in the current market.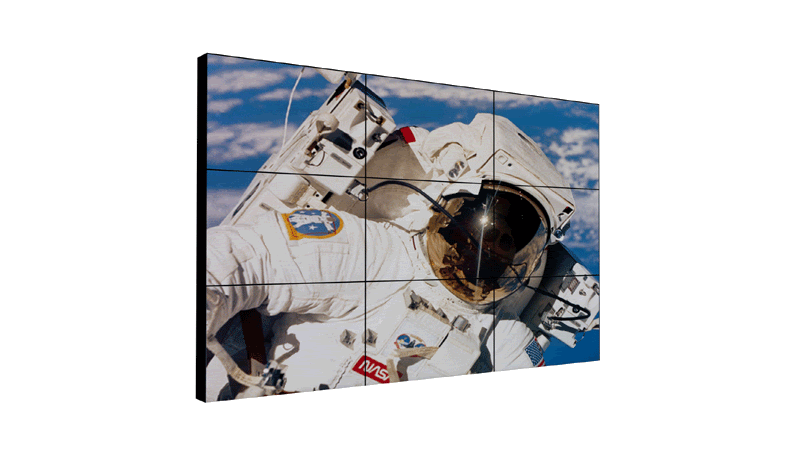 AKIRA's unique technologies includes:
Open frame design that allows for sufficient airflow with the separated LCD panel and electronic kits Removable electronic compartments which makes servicing possible without dismantle as the display remains installed with AKIRA's swing out wall mounts Separate installation of the panel which is the most fragile element of the product. Install 1.Wall mounts 2. Cables and electronic kits 3. LCD panel
Optional handles and protective handles aid installers to transport the product easily without fear of damage to the unit
Unique to AKIRA's swing out wall mount, the Auto Alignment Parking System provides reference poles for precise alignment for installation and the Stay Cool Air Duct System provides two separate ducts for airflow taking advantage of the chimney affect with added units in a matrix. Installation will also be simplified with the mock up units that will be provided to make precise measurement easier to achieve for a video wall application. 3- Step installation of the wall mount requires no assembly and with templates provided, can be mounted very easily and quickly.
"With our 10 years of experience in the display industry, we have been anxiously awaiting this time to combine the Ultra Slim Bezel LCD display with our unique features and wall mounting system to provide a full package solution to address challenges the installer and customers had been facing with video wall products," said Kevin Park, President of AKIRA.
About AKIRA
Established in 1999, AKIRA is a manufacturer of LCD products with headquarters in Livermore, CA. AKIRA specializes in commercial grade LCD products for indoor and outdoor applications. In addition to providing innovative products with unique features, AKIRA prides itself in the ability to provide custom products to support all their products and to provide technical assistance from the design phase to the completion of installation.
---
CTG Room Microphone Systems that Sound Great
by Stephen McNeil
CTG Audio (
www.ctgaudio.com
) makers of room mic systems that are as discreet as they are exceptional. CTG ceiling and table microphones are known for their tiny profile and their exceptional range and clarity.
The design process is simple:
From a one-page Project Survey, CTG has the tools to create an acoustic model of the room and determine the correct microphones and placement to optimize the sound performance. A drawing and equipment list are then provided as recommendations.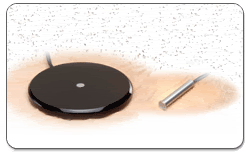 One of CTG's in table microphones
CTG will do an acoustical analysis of the room(s) using CAD drawings and digital photos. In most cases this exercise can be completed with drawings and suggestions within 24 hours.
The one page survey asks questions about dimensions, materials, coverage area desired, tables, integrations, uses of the room etc. From this, engineering will calculate the Critical Distance (Dc) which will guide the number and location of the microphones. The critical distance is the point at which the direct sound (voice) and the reflected sound are the same. Placing a microphone beyond this distance will tend to produce a reverberant sound. With the materials information the Reverberation time (RT60) is also calculated. This time measures the remainder of sound once the source has stopped. Should this time be too long, speech intelligibility will be reduced and anther type of microphone or location will be recommended. In some cases acoustical treatment may greatly improve performance.
From the acoustical model, a smart layout is designed and the appropriate equipment recommended. If ceiling microphones are not appropriate then other alternatives will be suggested.
This Audio configuration process boils down to three straight forward steps and provides scientific pin-pointing on "where to put the mics".
---

E V E N T S
| | | | |
| --- | --- | --- | --- |
| WHAT | WHEN | WHERE | MORE INFO |
| Steve Johnson, new RSM for Vaddio, inaugural trip to CA | Jan 5-8 | Various So Calif locations | The Enright Company (888) 334-7773 |
| CES (Consumer Electronic Show – Logan writing a piece for Gary Kaaye's rAVe Pro AV Newsletter) | Jan 7-10 | Las Vegas Convention Center | www.cesweb.org |
| Steve McNeil Birthday (our inside sales guy) | Jan 13th | Everywhere | stephen@enrightcompany.com |
| Richard Herwig Birthday (Southern CA Liberty Wire Territory Manager) | Jan 19 | Everywhere | rherwig@libertycable.com |
| International Builders Show | Jan 19-22nd | Las Vegas | www.buildersshow.com |
| 16th Annual Snader and Associates SASE Expo (Enright Company has row of booths as usual) | Jan 20-21 | Fiesta Hall, San Mateo Event Center | www.snader.com |
| Tom Mingo Birthday (Director of Sales, Vaddio) | Jan 21 | Everywhere | tmingo@vaddio.com |
| ASTD TechKnowledge 2010(training and development) | Jan 27-29 | Las Vegas | www.astd.org |
| AFCEA (Armed Forces Communications Electronics Assoc) | Feb 2-4 | San Diego Convention Ctr. | www.afcea.org |