---



July, 2003
Welcome to the July edition of eScanlines. This edition focuses on two critical areas for AV integrators: fiber optic links from CSI and wiring and infrastructure from Liberty Wire and Cable. These areas are the central arteries or the bloodflow of our industry. Signal flow over fiber or copper is truly a subject important to all AV integrators, as no matter how slow or busy one is there is always a need to pull cable and send signals.

Communications Specialties (CSI), in conjunction with The Enright Company and Pro AV Magazine, is conducting Fiber-Ed, the world tour of sessions to educate folks on the use of fiber optics. Conducted by John Lopinto, president and founder of CSI, last month we held sessions in LA, Las Vegas and Phoenix. Thanks to all our integrators and consultants who attended for their support. Honolulu is the next date in our region to be held August 4 at the Plaza Hotel on Nimitz Hwy www.fiber-ed.com.



Liberty Wire and Cable has proved to be a blue chip partner of ours. With more selections of cable, connectors, tools and panels than any other industry source, they've just introduced a new series of pre-made assemblies which are elegant and competitively priced. Other new items include a new quick connect tool for Ethernet (RJ45) connection, and a new series of TRUphase low-skew cable. Liberty also has their PanelCrafters Division in AZ who builds wall and rack panels. Download CadBlox from www.libertycable.com, a design package for wall plates and rack panels. You will love working with Liberty.

Enjoy your summer!
Logan Enright

We've sent this email to you because you are a valued integrator, dealer or consultant of The Enright Company. If you do not want to continue receiving eScanlines, unsubscribe now by scrolling to the bottom of this email and clicking on the unsubscribe link.
CSI'S NEW DIGITAL OPTICAL DISTRIBUTION AMPLIFER AWARDED VIDEO SYSTEMS' "PICK HIT" AWARD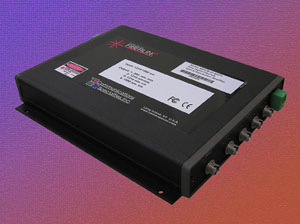 At NAB 2003, the public got their first look at Communications Specialties newest products in the Pure Digital Fiberlink® line - the 8000 and 8100 Series Digital Optical Distribution Amplifiers (D.A.s). The 8000 and 8100 Series optical D.A.s distribute signal(s) from any Pure Digital Fiberlink Transmitter unit to multiple Pure Digital Fiberlink Receiver units. Out of thousands of new products at the show, the 8000 Series optical D.A. was selected to receive a Video Systems' "Pick Hit" award.

Pick Hit winners are chosen by a panel of judges who anonymously roam the tradeshow floor, looking for new products that have not been shown at a previous NAB convention. Some of the qualities they look for include: products that can be used on a regular basis, products that provide new solutions to common problems and offer substantial improvement over previous technology, products that can be used in a wide range of facilities and affordability. The winners were featured in the June issue of Video Systems Magazine.

The 8000 and 8100 Series D.A.s receive optical signals from any one-way Pure Digital Fiberlink transmitter and then digitally regenerate and relaunch it over multiple fibers. Each output provides an identical replication of the original optical digital bitstream, resulting in no additional degradation to the baseband video, audio or data signals.

The 8000 Series optical D.A. may be configured to provide from one to four outputs. Each unit can receive signals over multimode or single mode fiber at wavelengths of 850, 1310 or 1550 nm. The fiber type and wavelengths for each output are configured separately and each may be different. The system features an external power supply and is available in free-standing box or card version. The card fills two slots within the model 6000A card rackmountable card cage.

The 8100 Series optical D.A. may be configured to provide from two to twelve outputs. The general specifications and operation are the same as for the 8000 Series with the following exceptions: the wavelength and fiber type for outputs must be specified in groups of two; the unit fills one rack unit in a standard 19" rack and features an internal power supply.

With both the 8000 and 8100 Series, the outputs may transmit to either a Pure Digital Fiberlink receiver unit or to another 8000 or 8100 Series optical D.A., allowing for complex distribution designs.

For technical specifications, datasheets and more information about 8000 and 8100 series, contact:
Liberty Wire & Cable Introduces High-Quality Molded Assemblies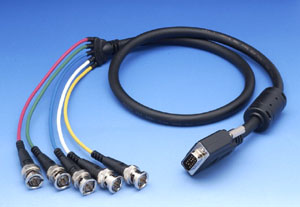 Liberty Wire & Cable, a worldwide supplier of a broad range of wire and cable products for the audio/video trade, including custom installers and systems integrators, announced the availability of its new line of PVC molded assemblies.

Liberty's extensive line of high-quality 26 AWG molded assemblies includes:
RGB cables – available in three to five conductors and terminated with 75-ohm BNC connectors; VGA cables – terminated with HD15 hoods with thumbscrews and ID bit/DDC compliant; VGA-to-BNC breakout cables – perfect for computer-to-projector or plasma connections; S-Video and S-Video-to-BNC breakout cables and DVI-D/DL dual-link cables that adhere to industry Digital Visual Interface (DVI) protocol for digital video installations.

Kirk Horlbeck, Vice President of Corporate Marketing and Residential Sales, stated, "When budgets or schedules are critical, Liberty's PVC pre-made molded assemblies provide a level of quality truly unmatched in the marketplace. Our molded cables exceed industry performance standards and provide a superior product at an economical price. The products design includes handsome 26 AWG conductors and an elegant, yet durable, strain relief molding, in addition to a flexible jacket that promises to delight installers."

For technical specifications, datasheets and more information about Liberty Molded Assemblies, contact:
Dealer Pricing Available at Enright Website
Visit the "Products" page at our web site for current dealer prices. Our website is updated almost daily.

Note: This area is password protected, so give us a call us for your password.
Thanks for scanning eScanlines. Send us your comments!

Sincerely,
The Team at The Enright Company
www.enrightcompany.com


17852 East 17th Street · Suite 112 · Tustin, CA 92780
888.334.7773 Toll-free
714.838.1900 Local
714.838-1353 Fax

---
You are receiving this email because you are a valued integrator, dealer or consultant of The Enright Company.

To unsubscribe, reply to this email with "unsubscribe" in the subject or simply click on the following link: