---
Welcome to the September edition of eScanlines, the monthly newsletter of The Enright Company, Professional Video/Multimedia Representatives, 17852 E. 17th Street, Suite 112, Tustin, CA (888) 334-7773.
14th Annual Golf Tournament November 6th Brookside

Tustin, CA. The 14th Annual Communication Products Vendors Golf Tournament, an Enright Company event, will be held at Brookside Golf Course in Pasadena, CA on November 6th. The tournament is open to all manufacturers, dealers, consultants and reps in our industry. Please note the date, and plan to have a relaxing day on the links with us at this event. Enright Company dealers will receive a sign-up form later this month. If you have a friend you would like to hear of this tournament, please email us requesting an invite. Do join us for this fun time in November! Remember, bad golf is no excuse for not playing!
APW, Formerly Stantron, Racks Up Points With AV Contractors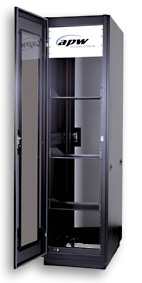 Lots of folks in this area remember when The Enright Company was the rep company for Stantron Racks. We proudly represented the steel enclosure firm for about thirteen years and our business with them was great. Stantron was acquired by APW (www.apw-enclosures.com) in the late 90s and the relationship has created an atmosphere of world class design and manufacturing. Enright Co was contracted for a second tenure under the APW moniker last year – we are thrilled to be back!
With more stringent seismic specifications than any standard product line in the business, APW meets Bellcore Zone 4 ratings (highest seismic rating). Other manufacturers comply only with the less strict Universal Building Code (UBC) specifications.

Designed for maximum flexibility and functionality, APW's Pioneer Series Enclosures meet the demands of virtually any application. These heavy-duty enclosures are designed with APW's exclusive Interweld design, with cross braces interlocked and welded into the corner post, ensuring maximum rigidity.

Coupled with its strength and stability, the Pioneer's modular design allows use as a stand-alone unit or a multi-bay assembly. Constructed of 14-gauge steel that supports up to 1,500 lbs., the Pioneer is available in standard heights (21" through 88"), 3 widths (22", 24" and 27"), and 3 depths (25", 30", and 36"). Choose from a wide array of accessories, including, top fan panels, shelving, writing desks, power, cable management, and more!

Our commitment to the Pro AV integrator is simple: We will specify any enclosure job for you including cross referencing any competitor's product. We will help you build a rack enclosure system which will meet your client's exact needs. We will anticipate your client's needs down to the 10-24 tapped screws. We know racks and are determined to show you our expertise in this product area.
VAC Debuts Build-A-Brick™ Automated Product Configurator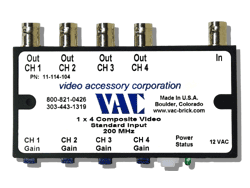 With over 1,200 switch and distribution amplifier product configurations, Boulder, CO based VAC has a solution for almost every audio and video application. Now, finding the right product configuration for a specific application is easier than ever, using Build-A-Brick™, VAC's automated product selection tool. By answering fewer than 10 questions, a VAC customer can define the ideal solution for any application, from all available video and audio distribution amplifier and switch configurations. Build-A-Brick provides both a part number and list price.

VAC Products Meet Military and Aerospace Requirements
VAC has also recently announced the availability of ProSeries™ and Basic Block™ products with 93-ohm input and output impedances for aerospace and military applications. VAC products are proven to meet the stringent demands of aerospace and military customers:
Basic Block products will operate from a wide variety of power sources, accepting 10 -24 V AC or DC input power.

ProSeries with the FlexPwr™ power supply option will operate from input voltages of 10-28V AC or 12-32V DC.

ProSeries products with FlexPwr operate over an extended temperature range of -40 to +80C.

ProSeries and Basic Block switches and DAs are environmentally ruggedized, and will withstand shock, vibration, temperature extremes, and moisture.

ProSeries products are installed on combat platforms in all branches of the U.S. military, including attack helicopters, fighter aircraft, and aircraft carriers. Military customers may purchase VAC products under the COTS (Commercial Off The Shelf) program. 93-Ohm units are available as special order products; contact VAC at 303-443-1319 or info@vac-brick.com for more information.

For information on VAC's other new products, including Component HDTV distribution amplifiers, VGA (RGBHV) distribution amplifiers, and AV ("combo") distribution amplifiers and switches, contact VAC.
Thanks for scanning eScanlines. Send us your comments!

Sincerely,
The Team at The Enright Company
www.enrightcompany.com
17852 E. 17th Street, Suite 112
Tustin, CA 92780
(888) 334-7773

---
You are receiving this email because you are a valued integrator, dealer or consultant of The Enright Company.

To unsubscribe, reply to this email with "unsubscribe" in the subject or simply click on the following link: