---



Welcome to the November edition of eScanlines, the newsletter of The Enright Company, Professional Video/Multimedia Representatives, 17852 E. 17th Street, Suite 112, Tustin, CA (888) 334-7773.

Todd Junkin Joins Enright Company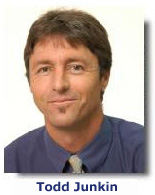 Tustin, CA. Our latest addition to the The Enright Company team is Todd Junkin. Todd is handling Northern CA and Northern NV for our firm. He has done the "hat trick" of being with a manufacturer, dealers and end users in our industry. Residing in the Sacramento area, he will be servicing dealers, consultants and systems integrators in the area.

Todd was with two prominent dealers in the area before his stint with Apple Advanced Technology Group, originators of QuickTime. He managed technical operations by building hybrid computer video labs. From there, Todd joined SGI/Silicon Studio as Business Development Manager. Silicon Studio was a manufacturer of cutting edge real-time graphics and virtual set engine for the broadcast industry.

Todd keeps his hands in video production on weekends as an editor and producer for the San Francisco 49ers. In his spare time Todd loves being with his son, Kye or playing water polo.

Leightronix just flew Todd into their Holt MI headquarters for a couple days of training on their network controlled machine control devices – expect to hear more from Todd on Leightronix.

Todd may be reached at todd@enrightcompany.com or by calling (408) 505-9286.

ProMax Document Cameras – Destined to be Major Player in Pro AV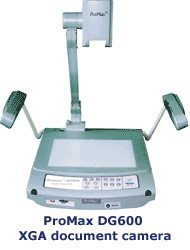 Southfield, MI. A new feature rich and very cost effective document camera line has entered the scene. ProMax specializes in manufacturing high quality, full-featured visual presenters at very competitive prices. Their mission is to provide high quality products with the best price and best service to the industry. ProMax has established headquarters and service center near Detroit, MI and provides a two-year manufacturer warranty.

The flagship camera from ProMax is the DG600. It carries a reasonable $2495. MSRP and boasts 850K pixel resolution, 2 XGA inputs and 2 outputs and on-screen 9 image (3x3) freeze. There is a whole family of document cameras from Promax including their DG550 which offers the unique feature of Central Control of your projector from the 550 (power and switch).

ProMax has one of the most aggressive dealer programs in the industry with high margins and a very generous demo discount. The Enright Company personnel have samples and will be calling you for a sales meeting.

ProMax also markets a digital pen called the DPI 100 which allows one to mark up Word and PowerPoint documents with a small portable unit which snaps on a pad of paper. The unit includes PC software which allows you to annotate documents and output to a PC or projector.
14th Annual Golf Tourney Big Hit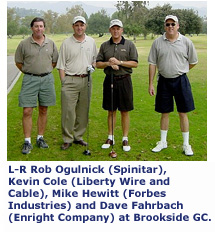 Pasadena, CA. The Enright Company hosted our 14th Annual Communication Products Vendors Golf Tournament November 6th at Brookside in Pasadena. 42 players turned out this year. Everyone seemed to have a great time and the temperature was a perfect 72 degrees for us.

This event alternates between LA and Orange County each fall and is open to all manufacturers, dealers, integrators and consultants in the industry. If you would like to receive notification for next year's event contact: Peter Fox at pete@enrightcompany.com
AB Universal - First Universal Mounts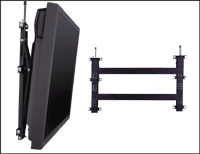 San Leandro, CA. In a breakthrough intended to benefit installers everywhere, AB Universal has engineered the first universal mounts for any wall or ceiling mounted display. With AB Universal's newest designs, it is possible to stock a single mount for virtually any display that needs wall or ceiling mounting.

Each universal projector mounting kit comes complete with ceiling/wall plate, 3 adjustable extension columns (drilled in increments of 1" to meet precise height requirements), 6 packs of attachment hardware (for attachment of all known projector types), a universal joint (allowing quick and permanent pitch and yaw adjustment), a quick-disconnect (for easy removal of projector without disturbing mount). AB Univeral has even built in 2 inches of horizontal slide in every direction for those last minute, after the fact re-adjustments.

The same principles apply to their highly engineered plasma/LCD wall mount. These new mounts feature 4" of vertical adjustment and 4" to 8" of horizontal adjustment after the panel has been mounted to the wall.

All mounts are stocked in quantity in San Leandro, CA. We have demo mounts for evaluation, and will bring them to you shortly.

Thanks for scanning eScanlines. Send us your comments.

Sincerely,
--The Team at The Enright Company
www.enrightcompany.com
17852 E. 17th Street, Suite 112
Tustin, CA 92780
(888) 334-7773
---
You are receiving this email because you are a valued integrator, dealer or consultant of The Enright Company.

To unsubscribe, reply to this email with "unsubscribe" in the subject or simply click on the following link: