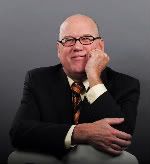 Dave Fahrbach
Some of the newest offerings from Vaddio,
www.vaddio.com
, include the RoboSHOT Broadcast and RoboSHOT Conference PTZ camera systems. This new camera series features Range-Set image control, a revolutionary new optical image control technology that allows integrators and technical staff the ability to set the appropriate wide field-of-view and optical zoom range to match the live requirements of the room. In addition to Range-Set, the RoboSHOT camera series features a new camera control protocol called Tri-Synchronous Motion by Vaddio. Now pan, tilt and zoom are just one command resulting in the ability to deliver smooth and repeatable "On-Air" camera motion.
In addition to the new camera series, Vaddio has expanded its AV Bridge line by introducing the AV Bridge CONFERENCE and AV Bridge MATRIX PRO. Based off of Vaddio's award winning technology, the AV Bridge CONFERENCE is designed for use with UC and videoconferencing soft clients. The AV Bridge MATRIX PRO is a complete professional AV solution designed to reduce the complexity of designing USB systems for meeting and lecture capture rooms that support multiple cameras and microphones. The MATRIX PRO allows you to add audio and video mixing functionality into one box.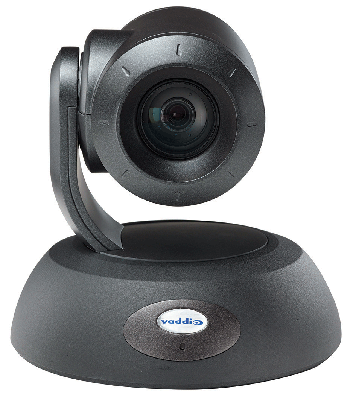 RoboSHOT Camera by Vaddio
New audio solutions by Vaddio include the ConferencePOD and the Audio Bridge. The ConferencePOD is an enterprise-quality USB 2.0, Bluetooth and VoIP conference phone with echo cancellation and full duplex operation for use with UC applications. Vaddio's Audio Bridge is a professional USB audio interface that allows you to integrate professional audio equipment into USB-based PC applications, Unified Communications, lecture capture, recording or any other application that requires professional audio. Existing meeting room audio equipment can now be used with any UC soft client including Microsoft Lync, Cisco Jabber, Google+ and more.


---
Casio Lampless Projectors Illuminate St. Columban Church
LED/Laser Technology Means No Lamp Replacements
by Logan Enright, CTS - The Enright Company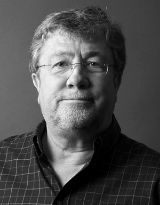 Logan Enright
Garden Grove, CA.
Ro Elliott has served as Music Director at St Columban Church, Garden Grove, CA, since 2004. One of 62 parishes in the Catholic Diocese of Orange County, CA, Ro selected two Casio XJ-H1700 laser/LED lampless projectors, www.casioprojector.com, for their 1800 seat sanctuary. The church displays music lyrics, scripture and more at all masses for their parishioners on the two front walls next to the alter area.
Wayne Trouten of Electronic Design Solutions Inc (EDS), Murrieta, CA, systems integrator for the church recommended Casio,
www.casioprojector.com
, the first hybrid laser/LED projector line, to replace older, dimmer lamped projectors. EDS, founded in 1993, is a full service company providing design, engineered drawings and installation of AV and low voltage systems. www.myedsinc.com.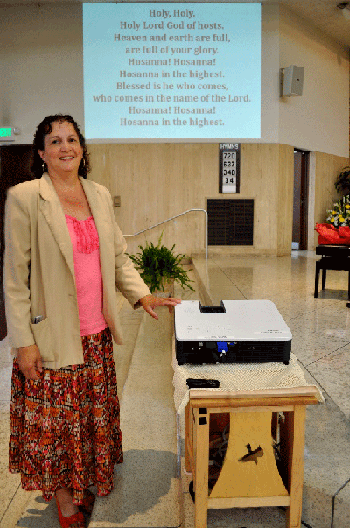 Ro Elliott is thrilled with Casio
projectors
"We are thrilled with the performance of the Casio projectors – they're bright and clear" said Ro who serves under Pastor Juan Caboboy at St Columban. "The idea of never replacing bulbs will save our parish a lot of expense and hassle" Ro continued.
Casio announced they have upgraded the entire 22 projector line with even better color rendition, internal memory, improved wireless features and more at InfoComm 2014. Most Casio projectors are now made in Japan (not China any more) which means will be marketable in government sales as a favored nation.
The Enright Company, www.enrightcompany.com, is the Manufacturers' Rep firm for Casio and other commercial AV manufacturers for CA, AZ, NV and HI. The Enright Company was founded by Logan Enright in 1985 and has been serving the commercial AV industry for 30 years.
---
Hall's Multi-Format Scaler Switch and Multiport HDMI-to-HDBaseT™ Extension Box
Choose From three selectable outputs including VGA, HDMI and HDBaseT
by Stephen McNeil - The Enright Company
Model SC-12BT by Hall Research, www.hallresearch.com, is a 12 input, 3 output HD Scaler Switch. It accommodates 4 HDMI, 4 VGA, 2 CV, 1 S-Video and 1 YPbPr inputs. It has three selectable outputs VGA, HDMI and HDBaseT.
Inputs are selected by using front panel push-buttons, RS-232 or IP commands. The selected source is scaled to a fixed user-settable resolution and simultaneously output as : VGA, HDMI, and HDBaseT (for easy extension to 70m / 230 ft on a single UTP).
The HDMI audio is extracted, VGA and AV inputs have separate audio inputs. There are two auxiliary audio inputs (balanced mic and stereo line-level). Audio controls are provided on the front panel. The overall audio is embedded in the HDMI and HDBaseT outputs and is also available on RCA jacks.


Hall SC-12BT

The UHBX-8X is a 1 RU box that converts 8 HDMI inputs to corresponding HDBaseT™ outputs for extension to 150 meters (500 ft) on single UTP. The extender supports HDCP, 3D, Deep Color, CEC, and 4K (UHD) resolution. Compatible receivers include the low-cost self-powered UH-1BT-R and UH-1BTX-R for HDMI extension to 230 ft or 330 ft respectively, or the UHBX-R-PD that supports RS-232, IR, PoH, and Long Reach modes to 500 ft. When using receivers with PoH function, a single optional 48v power supply is needed for the 8-channel sender.
The UHBX-8X provides both IP (Ethernet), and RS-232 ports for control. Using these ports the user can address and send RS-232 or IR commands to any of the receivers to control the remote display. 8 separate IR emitter ports are also provided on the rear of the UHBX-8X which can be used if a user connects IR detectors at each remote location. This would be perfect for controlling multiple sources in a rack with the UHBX-8X.
The extender is constructed as a 1RU rack-mountable unit and has a built-in power supply. LED indicators on the front panel show Link Status, HDCP status, Long Reach and Power for each of the 8 outputs.
---
SunBriteTV Debuts SunBriteDS
High-performance displays designed for permanent outdoor installation
by Patti Enright - The Enright Company
Patti Enright
Introducing SunBriteTV's,
www.SunBriteTV.com
, launch of SunBriteDS, a dedicated division of commercial digital signage displays designed for permanent outdoor installation.
SunBriteTV's high pedigree for innovation and consistency will be evident in SunBriteDS through its comprehensive offering of digital signage solutions for integrators, venue operators and dealers.
Eliminating any fear of isotropic blackout, SunBriteDS models will boast 700-NIT panels for reliably bright image quality in any climate or lighting. The SunBriteDS family will also include touchscreen models, portrait orientation displays, and sizes ranging from 32" to 55" as well as new ultra-high-performance Marquee Series models.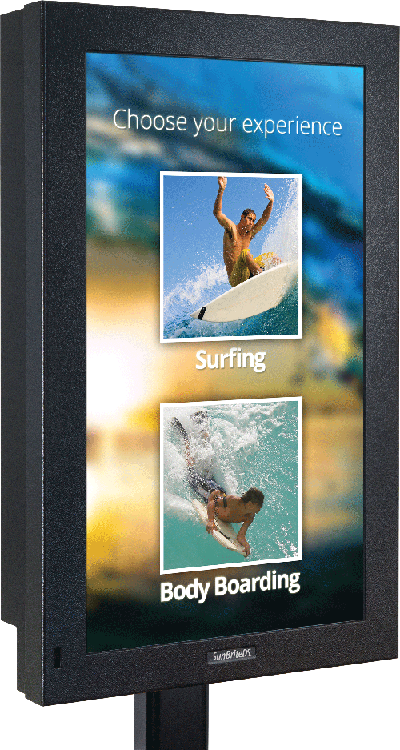 Sunbrite display

"We're launching SunBriteDS to give venue operators unprecedented options with outdoor signage," said Cameron Hill, CEO, SunBriteTV. "Between 11 models available in a variety of size, color, touchscreen and orientation options, SunBriteDS will boast 39 SKUs, making it the most comprehensive only time-tested line of outdoor digital signage displays in the world."
All SunBriteDS outdoor commercial displays are fully weatherproof, protected from rain, dust, insects, humidity, grease and salty air due to a rugged exterior and watertight Cable Entry System. All SunBriteDS models function in temperatures as low as -400 and as high as 1220 Fahrenheit.
Designed for permanent outdoor installation, SunBriteTV's outdoor televisions are superior to indoor televisions when it comes to both safety and performance. Specialized gaskets and insulated electronics keep all wiring safe from every kind of natural element from moisture to insects. The bright, anti-glare screens are specially designed to deliver bright HD images outdoors, day or night.
---


RGB Spectrum's New Galileo Display Processor: A Breakthrough in PC Walls
New processor combines benefits of PC-based system and native-run application
by Logan Enright, CTS - The Enright Company
RGB Spectrum's,
www.rgb.com
, innovative new IP-enabled Galileo Display Processor is a powerful and economical video wall system designed around a PC-based architecture. The processor combines the benefits of PC-based systems, such as IP inputs and the ability to run applications natively on the processor, with the 24/7 level of reliability and real-time performance of all of RGB Spectrum's solutions.
The Galileo system supports a full range of input and output types (IP, analog, DVI/HDMI, 3G/HD-SDI) with resolutions up to 3840x2160 (4K). Inputs can be displayed in an unlimited number of windows located anywhere on the video wall. The Galileo processor can also deliver HDCP protected content to up to 56 displays, while other PC systems either do not support HDCP at all or impose severe limitations on wall size.
Galileo by RGB
The Galileo system is easy to set-up and control. An advanced GUI allows users to "drag and drop" inputs and applications, such as VMS, SCADA and videoconferencing, to the video wall. A convenient tablet interface is also available. In addition, an API allows operators to monitor remote alarms and create advanced scripts to recall layouts and control third-party equipment.
The Galileo processor is ideal for a range of applications including mission-critical operations/command centers and control rooms, as well as boardroom video walls, corporate lobby displays, and large-scale digital signage. Combining enhanced reliability with the flexibility of a PC system, the new IP-enabled Galileo display processor is a PC wall done right.
The Enright Company represents RGB Spectrum in So Calif and So NV.
---
Crimson – Easy to Align, Easy to Order
System designs accommodate an infinite number of displays
by Jason Housel - The Enright Company
Ceiling mounted systems by Crimson
Crimson's,
www.crimsonav.com
, innovative designs facilitate ceiling or wall-mounted options and accommodate an infinite number of displays in either landscape or portrait orientation. Assembly is a breeze, and once mounted, displays are both quickly and easily aligned, making installation incredibly efficient.
Easy to Align - Easy to Order
Our ceiling-mounted systems feature a proprietary quick assembly and easy-alignment design that simplifies the installation process exponentially.
Prices are based on the number of displays to be used, so you can easily quote the solution to your customer. When you order, we conveniently kit all components for you and if you require a technical drawing of your system, we provide that as well.
Kits with Single or Dual Drops
When ceiling-hung landscape or portrait, in-line configurations are required, our CM mount systems provide the best solution on the market. Prefabricated kits are available in 1x3 through 2x5 configurations (including back to back). Our proprietary design minimizes the number of drops for minimal visual distraction. Other configurations require additional ceiling drops, but the finished installation will be equally elegant.
WML (landscape)
Wall-mounted landscape configurations are just as easily specified as our ceiling-mounted solutions. Compatible with displays up to 65"+ in size, WML mount systems feature unique post-installation leveling and cable management capabilities for a clean-looking, fast and easy installation. Priced per display for easy quoting to your customers.
WMP (portrait)
Our WMP mount systems provide portrait-oriented solutions for displays up to 65"+ in size. Like our other Menu Board mount systems, WMP includes all of the necessary components and hardware needed to complete the installation.
---
T1Visions: Tales of Interactive Transformations in the Corporate Space
ThinkHub facilitates collaboration with interactive environment
by Dave Fahrbach, CTS - The Enright Company
T1Visions,
www1.t1visions.com
, a provider of interactive touchscreen experiences, has installed its inTouch Interactive Wall in SAP's U.S. Headquarters in Newtown Square, PA. The touchscreen Wall spans approximately 15 feet and is located in the Executive Briefing Center, where SAP is shifting the traditional meeting format to a more interactive, immersive experience for their customers.
In partnering with T1Visions, SAP sought to tell their story through their customers' eyes. To achieve this lofty goal, the inTouch Wall houses over 2000 customers stories featuring case studies, videos, and testimonial, among other dynamic content. It was important that the Wall contain fresh, new content while remaining low-maintenance for the Executive Briefing Center. To accomplish this, T1Visions worked directly with SAP's existing systems to create a custom API that would pull data directly to the Wall, which keeps content current and requires no additional upkeep from the organization.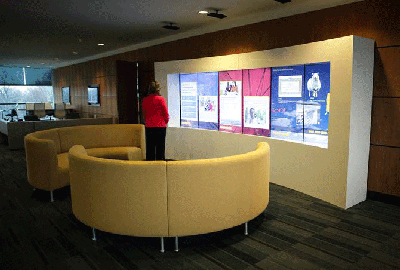 inTouch Interactive Wall
To give users control of their own experience, the custom software application enables users to sort and pick through content most relevant to them by applying filters, which in turn makes the discovery process quicker and more efficient. Every component of the project - from software, hardware, content management, integration, training, and ongoing support - was considered and packaged by T1Visions as a one-of-a-kind turnkey solution. Watch the video and download the case study to learn more.
In line with its efforts to transform traditional corporate meeting spaces into more interactive environments - T1Visions recently introduced its newest software application, ThinkHub, at InfoComm 2014. ThinkHub is a multiuser software application designed to help teams to ideate, visualize, and problem solve. By consolidating all information on a large-format touchscreen, ThinkHub transforms traditional meetings into more proactive, effective sessions that positively impact performance and efficiency in corporate teams.
---


E V E N T S
WHAT
WHEN
WHERE
MORE INFO
Vaddio Fishing Trip
Jul 18-21
Eagle Lake, Ontario Canada

www.vaddio.com

RGB Spectrum
Training 101
Jul 22-23
RGB Spectrum HQ
Alameda, CA
www.rbg.com
Klipsch Golf
Tournament Invitational
Jul 25
Trump Int'l Golf Course, Palos Verdes, CA
Logan Enright
logan@enrightcompany.com

Rob Foster, Pakedge networking products
in SoCal

Aug 4-7

Various

The Enright Co
(888)334-7773
Spinitar EduSpin
(Vaddio exhibiting)
Aug 7
CBI, Newport Beach CA
Spinitar
www.spinitar.com
VMI Show (Vaddio, Hall, Casio exhibiting)
Aug 13
Cerritos Sheraton
www.vmivideo.com

---
Thanks for scanning Scanlines. Send us your comments.
Sincerely,
The Team at The Enright Company
www.enrightcompany.com
1801-I Park Court Place Suite 100
Santa Ana, CA 92701
(888) 334-7773