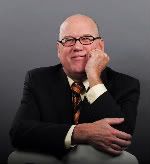 Vaddio's,
www.vaddio.com
, new PowerVIEW HD PTZ cameras bring 3-Chip broadcast camera performance to a single-chip camera. Based on third-generation Maicovicon MOS imaging sensor technology, the HD-22 and HD-30 improve color and brightness uniformity, ensuring an improved high definition image quality.
The HD-22 comes equipped with an multi-element 22x optical glass auto-focus zoom lens that provides up to a 66-degree field-of-view for a wide range of telephoto or wide-angle shot options. An impressive 128x wide dynamic range covers both light and dark contrasted areas and a Color Capture light system produces vivid color images without color saturation or filtering. The HD-30 adds a 30x optical power zoom, capable of capturing the most detailed video images even in the largest rooms.
The PowerVIEW HD-22 and HD-30 are the industry's first robotic PTZ cameras to use the new MOS 1/2.8-Progressive Scan imaging sensor. By suppressing uneven brightness, they provide unmatched low-light performance of 0.4 LUX and a Super Sharp Detail technology for auto-sharpening fuzzy images.
Outputs include native 1080p/60/50 analog component and HDMI video resolutions, ideal for use in the highest demanding HD camera applications requiring a 3-Chip PTZ camera.
---
Casio's Dual Projection System Combines Two LampFree™ Projectors
Overlapping images bring approximately twice the brightness of a single projector
by Jason Housel - The Enright Company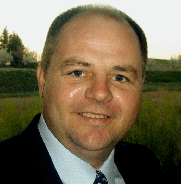 Casio's,
www.casioprojector.com
, Dual Projection System combines two LampFree™ Projectors and projects overlapping images onto a single screen with 6500 lumen brightness; approximately twice the brightness of a single projector. The Geometric Correction System aligns both images and this provides a sharper and brighter projection good for large screens in restaurants, pubs, and sports bars.
The Enright Company and Casio have received a $1M award for a single school district for Casio projectors in our region. This illustrates the market acceptance to the hybrid (laser/LED) technology.
Casio's Laser & LED light source has an estimated life of 20,000 hours which is 10 times a typical mercury lamp projector (2000 hours). At 16 hours per day of operation that equals 3 years of operation without a lamp change or a dark screen. And the savings add up ... if you change lamps 3 times per year with a $300 per lamp cost, your potential savings could be $900 per projector in your store.
Casio's Hybrid & LED light source is the most economical solution in the projector world. Our projectors are ideal for long term use which leads to reductions in running costs and maintenance fees you would pay if you had high-pressure mercury lamp projectors. And best of all, LampFree™ means no lamp failures or blank screen.
---
HDMI over HDBaseT™ Extender with IR, RS-232 and PoH over Single Cat6
Hot New Product Utilizes HDBaseT Technology
by Adrian Torres - The Enright Company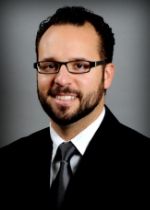 At Infocomm 2013 the Hot product was the UHBX-P1 an extender kit from Hall Research,
www.hallresearch.com
, that utilizes HDBaseT technology. It can send HDMI, IR, bi-directional RS-232, and PoH (Power-over-HDBaseT) to 500 ft (150 m) on a single Cat6 cable. The extender uses only one +5v power supply, internally creates 48v PoH and complies with IEEE 802.3af handshake. The P1 extender's sender unit provides power to the receiver.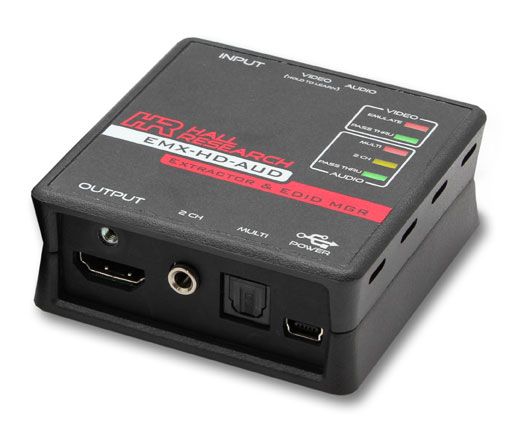 In standard mode the UHBX-P1 supports DVI and HDMI signals of virtually any resolution up to 4K x 2K to 330 ft (100m), and in Long Reach mode it supports resolutions to 1920x1080 to 500 ft (150 m).
The UHBX-P1 is part of the "BaseT-Cat™" family of products and is housed in compact and sturdy metal enclosures with convenient mounting provisions. It is designed and manufactured in the USA.
Available late summer.
---


Visionary Solutions' New PackeTV® Views Makes Custom IPTV Delivery Easy
Leveraging Cloud Services, the Online Management Portal Delivers Affordable, Personalized IPTV Content to Any Audience
by Stephen McNeil - The Enright Company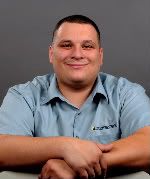 SANTA BARBARA, CA —Visionary Solutions, Inc. (VSI),
www.vsicam.com
, has announced the release of PackeTV® Views, a new browser-based solution that dramatically simplifies the viewing and sharing of IPTV content. PackeTV Views offers a simple dashboard allowing users to select from a menu of available IPTV media resources.
"One of the biggest challenges facing IPTV service providers is managing how viewers choose channels and content they want to see," said Joe Walsh, vice president of sales, VSI. "With PackeTV Views, viewing and sharing customized IPTV content has never been easier or more affordable. PackeTV Views will transform the IPTV industry by providing operators with a low-cost, Web-based IPTV channel guide solution."
PackeTV Views features a multi-user administrative interface; multiple viewer categories; and a simple, highly visual back-end system, all at an affordable price point. The actual media streams can be kept secure or the channel guide can point to unicast or HLS media feeds from public sources as well, in any combination. Intuitive controls enable easy operation by both technical and non-technical personnel.
Leveraging Software as a Service (SaaS) cloud services technology, PackeTV Views provides seamless access to stored or live content, minimizing end-user requirements and eliminating overhead costs. The HTML-based solution is compatible with most popular Web browsers and supports customized branding and a flexible design for a personal user-interface experience. Single-instance and enterprise licenses are available.

About Visionary Solutions, Inc.
Visionary Solutions, Inc. (VSI), develops and manufactures open-standard solutions that harness the power and flexibility of IP networks to deliver real-time video and audio. With a passion for innovation and customer service, VSI provides outstanding products recognized for their value, performance, versatility, and quality. VSI products support the industry's latest technology standards, including H.264, making the company a trusted partner for solutions in the enterprise, education, government, house of worship, entertainment, healthcare, and broadcast markets. VSI sets the industry standard for high-quality video transport over IP networks.
All trademarks appearing herein are the property of their respective owners.
---


RGB Spectrum Debuts OmniWall at InfoComm '13
Newly designed video wall processor accommodates virtually any configuration
by Patti Enright - The Enright Company
InfoComm 2013 was the debut of RGB Spectrum's new OmniWall™ in Orlando,
www.rgb.com
. OmniWall™ is designed to meet the need for flexible wall sized displays in applications ranging from command centers, control rooms, high end digital signage, and other mission critical venues.
OmniWall features a newly designed video wall processor, which accommodates wall arrays of virtually any configuration. High-resolution graphics and video sources including multi-head computers up to 4K (UltraHD) resolution can be displayed at full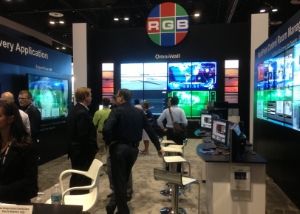 resolution. Multiple walls can be managed from the same processor. An image can be scaled across any number of displays.
A wide selection of modular fiber and copper inputs include digital and analog sources – DVI, HDMI, 3G/HD-SDI, RGB and component signals. HDCP support allows OmniWall to accommodate content-protected HDMI signals and provide embedded audio pass-through. An HDCP encoded signal can be routed to all outputs simultaneously. The Enright Company represents RGB Spectrum in Southern CA and Southern NV.
---
TOA Electronics Introduces New SR-D8 Steerable Line Array
Process Time Is Instantaneous for New Array
by Logan Enright, CTS - The Enright Company

TOA Electronics, Inc.,
www.toaelectronics.com
, represented by The Enright Company in So Calif and So NV, revealed its new SR-D8 Digitally Steerable Line Array at InfoComm13 in Orlando, FL. The SR-D8 contains 8 "cells", each with a compliment of a 4" low frequency speaker and a coaxially-mounted array of 3 - 1" dome tweeters. Each cell is powered by an independent Class D amplifier.
The
SR-D8 System
comprises two different models: The SR-D8-M (Master) and the SR-D8-S (Slave). A single SR-D8-M may be connected to up to three SR-D8-S units for linear 4-speaker array. A total of 16 SR-D8s may be connected in any given system. Each SR-D8-M has an input via balance analog line or CobraNet. The signal may be daisy-chained to other SR-D8-Ms via an AES/EBU link.
This Line Array system features advanced 24bit/96k on-board DSP is controlled via supplied GUI software and is also accessible via web browser. The software provides full control of all SR-D8s in the system. It is possible to control the beam angle within a +/- 45 deg range and the beam may also be split two ways at any point along the array (from single to four-speaker configuration).
The GUI software provides a full-compliment of parametric EQ, compression, delay and beam control. The GUI also displays a predictive preview of beam propagation for any configuration. One main advantage is the calculation time-from configuration selection to execution, the process time is instantaneous! This line array speaker is ideally suited for large atrium spaces, auditoriums & Houses of Worship. The SR-D8-M & SR-D8-S carry TOAs 5-year Audio Product Warranty.
---


Installer's Choice Names Cordts National Sales Manager
Joe brings a broad range of expertise and technical experience
by Dave Fahrbach, CTS - The Enright Company
DES PLAINES, IL - Installer's Choice –an IMS Engineered Products brand,
www.installerschoice.com
, is pleased to announce the appointment of Joseph Cordts to the position of National Sales Manager. Joe will oversee the North America Commercial Sales Channel in the Pro AV market and will focus on growing and developing the Installer's Choice AV rack line and sales channels.
As a Corporate Sales Manager with twenty six years of technological sales experience in the Pro A/V Industry, Joe brings a broad range of expertise in display, projection and mounting/rack solutions that accompany system design and integration. Prior to coming to Installers Choice, Cordts has worked in sales management for Sharp, Philips, NEC and Chief including owning his Independent Rep Firm. His background in the Pro A/V Industry demonstrates a career dedicated to pioneering and cultivating business sectors of these companies thereby increasing both productivity and profitability.
"Joe brings a wealth of industry knowledge and experience and we are excited to have him on board" said VP Sales and Marketing Manager for IMS Engineered Products, Kevin Groom. "He connects with this industry and his experience and passion will be a valuable asset to IMS."
Installer's Choice is a brand on IMS Engineered Products, represented by The Enright Company in CA, AZ, NV and HI, has supplied racks, enclosures and related accessories to all sectors of industry since 1943. It is focused on supplying engineered enclosure solutions that have the highest load ratings in the industry as well as innovative design. For more information contact Kevin Groom, VP of Sales and Marketing at (847)391-8200 or visit:
www.installerschoice.com
.
---


Enright Company Road Shows This Fall
Coming Soon!
by Logan Enright, CTS - The Enright Company
Santa Ana, CA. - The Enright Company Road Shows/Luncheons will be coming to a hotel ballroom near you this fall. These annual events feature the finest in AV hardware and solutions by our manufacturers.
Standby for further information in the next edition of Scanlines and in a direct email from us. Thanks for your support in these shows!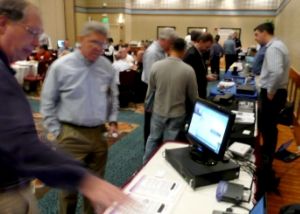 Enright Roadshows and Luncheons are always well
attended by our integrators and consultants
---


E V E N T S
---